E3 2016
INJUSTICE 2
It is the second sequel of Injustice: Gods Among us. Injustice is a fighting game with the DC characters such as Batman, Superman, Aquaman etc. It would be fair to say that the graphics of Injustice has blown me away . It looks so smooth and astonishing. The moves of the characters seem very smooth thanks to the graphic engine. However, there is one thing that makes Injustice 2 special among the fighting games. You can customize your fighting characters. For example, you can make your own Batman with gears. We don't know much about the story yet but i think this game will be amazing.
---
NFS NO LIMITS WITH VULKAN API
NFS No Limits is not a new game but Samsung has powered it up with the Vulkan API. Now the game looks better and seems to run more smoothly. Even that it is a mobile game, it kinda looks like a console game thanks to Vulkan API.
---
LEGO WORLDS 
Lego Worlds is not a new game as well but they have added new things. First of all, its graphics are better; its gameplay is better; you can do more compared to the previous versions of Lego Worlds and the list goes on. However, there is one feature that literally completes the game…which is online gameplay. Now you can play in your world with a friend. You can do so so many things together and enjoy the game. You can join early access now on steam.
---
SERIOUS SAM
This is a VR game and it is breathtaking. It is a little gory but I think that it is the point which makes the game special. The game allows you to shoot a giant with a minigun and this is one of the things we need in a VR game. The graphics way-way better than the other VR games ( if you can afford the latest Nvidia cards ). The gamers will love this title.
---
XBOX ONE S
The new Xbox One. The rumors were saying that there will be a new Xbox and here it is but please do not confuse it with the next generation. This is only another type of Xbox One. It is smaller, thinner and sharper than the original Xbox One.  A physical improvement was needed in Xbox One because Xbox One was not the best designed console after all. The most important feature of Xbox One S is that it comes with 4k output. When Ps4 and Xbox One came out people were a little disappointed because they did not have 4k output but the Xbox One S has one. However, that does not mean you can play 4K games. We said "output" which means now you can watch 4K movies. Anyway, there is also a new controller. It looks a little bit better than the original Xbox One controller but there is not much difference except the fact that now it uses Bluetooth which, by the way, increases its range.
We will write a special review for Xbox One S with more detail on Brighttitan. Be sure to check it out!
---
GEARS OF WAR 4
The fourth sequel of Gears of War. This is an exclusive game for Xbox and Windows 10. I must say that the graphics of the game took my breath away. The graphics are so good and the moves of the models are so smooth. Now there are more weapons in the game and more action in the gameplay. Through the level, you try more creative ways to defeat your enemies such as using a catapult. This game will be awesome.
---
QUAKE CHAMPIONS
Quake is an old game and it was the real deal of 2000s when it came to multiplayer gaming. It was fun diverting. Now Bethesda made another sequel and according to rumors and trailers, Bethesda improved graphics so much. I recommend you to check old Quake before Quake Champions. Then you will see the differences. Multiplayer gameplay is improved and Bethesda added a hell out of new weapons to game.
---
NEW FALLOUT 4 DLC
Fallout 4 is one of the flagships of Bethesda and they keep on adding new things to the game. With this DLC you can build mechanism such as elevators, track kits and much more but i think the biggest feature that comes with this DLC is building your own vault. Now you can create a vault, customize it, host people in it…For short, you can do whatever a vault includes. Furthermore, there is a wasteland vacation. We are waiting for more details.
---
SKYRIM SPECIAL EDITION
Actually, at this point i am very disappointed and the gamers like me because we were wanting to see a new game of Elder Scrolls. After Witcher, Skyrim is my favorite game but it is kinda old now. Please comment if you want to see a new Elder Scrolls game from Bethesda. Now let's talk about "special" edition. NOw Skyrim has better graphics, better engine, better animations, better voice acts and lightning effects. The people who modded Skyrim graphically won't get excited much because you may have made Skyrim look better with the mods already. I am really disappointed Bethesda…
---
PREY
This is a game from Bethesda. We do not know much about the story and the gameplay yet but if the graphics are going to be like trailer, this game will take your breath. It is a FPS game and the graphics of this game is the best graphics i have ever seen in my life. When it comes out, we will try to make a review for it because it looks like it is going to steal the show.
---
DOOM DLC
It hasn't been much since the Doom came out but people are crazy about this game. Bethesda introduced a new DLC for Doom and they made the game better. Bethesda added 3 new multiplayer maps, new player-controlled demon (harvester), a new weapon, a new mine equipment and ways to customize your Doom marine.
---
DISHONORED 2
Let me start the review like this, OMG!!! Dishonored was a really good game, but Dishonored 2 is like no other. I have seen better graphics in a game but i can give 10/10 to nearly every category. Especially its gameplay. I think after the release of this game, most people will start to say "Dishonored 2 is my favorite game!" New spells and moves are added to the game and it is just amazing in every category. It is one of the biggest titles that is announced in E3.
---
BATTLEFIELD 1
Alright ladies and gentlemen, let's talk about the big daddy. Of course you have heard about Battlefield 1 (executioner of CoD) so you know things about this game.First of all, this game passes in WW1, so people who like to use futuristic weapons may not like this game, BUT it has its own futures. You can fly a plane, drive a tank and destroy a zeppelin using these vehicles. The graphics of and gameplay of this game is flawless. Be sure to check it out.
---
FORZA HORIZON 3
Forza Horizon 2 was an open world racing game and people love Forza Horizon for it's open world feature. In Horizon 3, the world is improved much more.New elements have added to the game and those additions made the game better. But didn't see much of a change. They could have made the game a little bit more special. But still the game is good, don't get me wrong.
---
RECORE
Another title from Xbox.I must say that between Forza, Battlefield and Dishonored, that game didn't get my attention much. Game looks fine but it is not one of the main titles. The game is kinda like a 3D platformer shooter. Again do not get me wrong, the game is not bad but i doubt if Recore will get attention much.
---
FINAL FANTASY XV
Now that's what i call an RPG. I am sure that most of you know Final Fantasy because it is a BIG title. Usually, Final Fantasy is a turn-based RPG but this game is not turn-based, even if it made my head turn. THIS.GAME.IS.BRILLIANT!!! The gameplay has improved so much that you never stop during a fight with a foe. Gameplay is perfect, graphics are perfect, combat is perfect, story is perfect…it is just perfect. The game has its unique features than other Final Fantasy titles but i don't want to tell much before the game comes out but be sure that as Brighttitan, we are going to review this game on Brighttitan. Be sure to check it out.
---
INSIDE
This game is from the creators of Limbo. This game reminds people Limbo because it does not have special features. Inside has a dark theme and you can feel it while playing it.
---
WE HAPPY FEW
I think it is too early to say something about this game. It looks like a scare game but i can't be sure. Just know that We Happy Few is announced in E3 2016.
---
GWENT: THE WITCHER CARD GAME
If you played Witcher 3, you know about gwent. This game is only about gwent. It has nice animations.If you liked gwent, you can check this game out.
---
DEAD RISING 4
This is a zombie game but you don't run from zombies, you run AT zombies. Dead Rising is a franchise and it is really enjoyable. With hundreds of weapon combinations and skills, you can kill zombies in the way of your own. Main character is Frank West and the trailer literally describes the game. Dead Rising 3 was a massive success and Dead Rising 4 will be one as well. Graphics could be a little bit better but they are fine. No other game can give the joy and taste like Dead Rising 4.
---
SCALEBOUND
In this game, you play as a dragon tamer and that is what makes the game exciting. Scalebound is an exciting title for E3 because it is kinda unique. You will never get bored while killing enemies because Scalebound has its own way. The graphics are nice but gameplay and theme is better. Especially the things that you can do using a dragon. It will be an interesting tile for Xbox. I think it deserves a special review. Brighttitan will try to make a review for it as soon as possible.
---
SEA OF THIEVES
Have you ever wanted to live the life of a pirate? To do this, you don't have to set sail and rob ships in real life. Sea of Thieves gives the best experience on this. It is a co-op game and it really makes you to feel like a pirate. Graphics are fancy and cute and the gameplay is cute too. I think that this is a unique game and i really recommend you to check this game out. In the future, Brighttitan will try to make a review for it.
---
STATE OF DECAY 2
Another zombie titled game of E3 2016. Do not confuse it with Dead Rising 4 because State of Decay is a survival game which has multiplayer mode . The game looks inspiring and it will take much attention. Be sure to check it out.
---
HALO WARS 2
Halo Wars 2 is strategy game like Age of Empires. DO not confuse it with the games Halo 3 or Halo 4 but that does not mean that the game is bad. New features have added and Microsoft did a good job on Halo Wars 2. It also has a multiplayer mode which i think is better than single player mode. You should check it out.
---
JUST DANCE 2017
We all know that Just Dance series is a classic for dancing games. Just Dance 2017 is not much different from other Just Dance games but it is still very enjoyable. It comes with 40 new tracks. You will enjoy playing this game with your friends.
---
GHOST RECON WILDLANDS
Another Tom Clancy's game. But this time it is not like a team deathmatch game. You can complete missions with other players and i think this made Tom Clancy's better. I am sure that you will enjoy playing this game with your friends. And this game has some new features such as new weapons and new things that you can do in the world. I recommend you to check it out.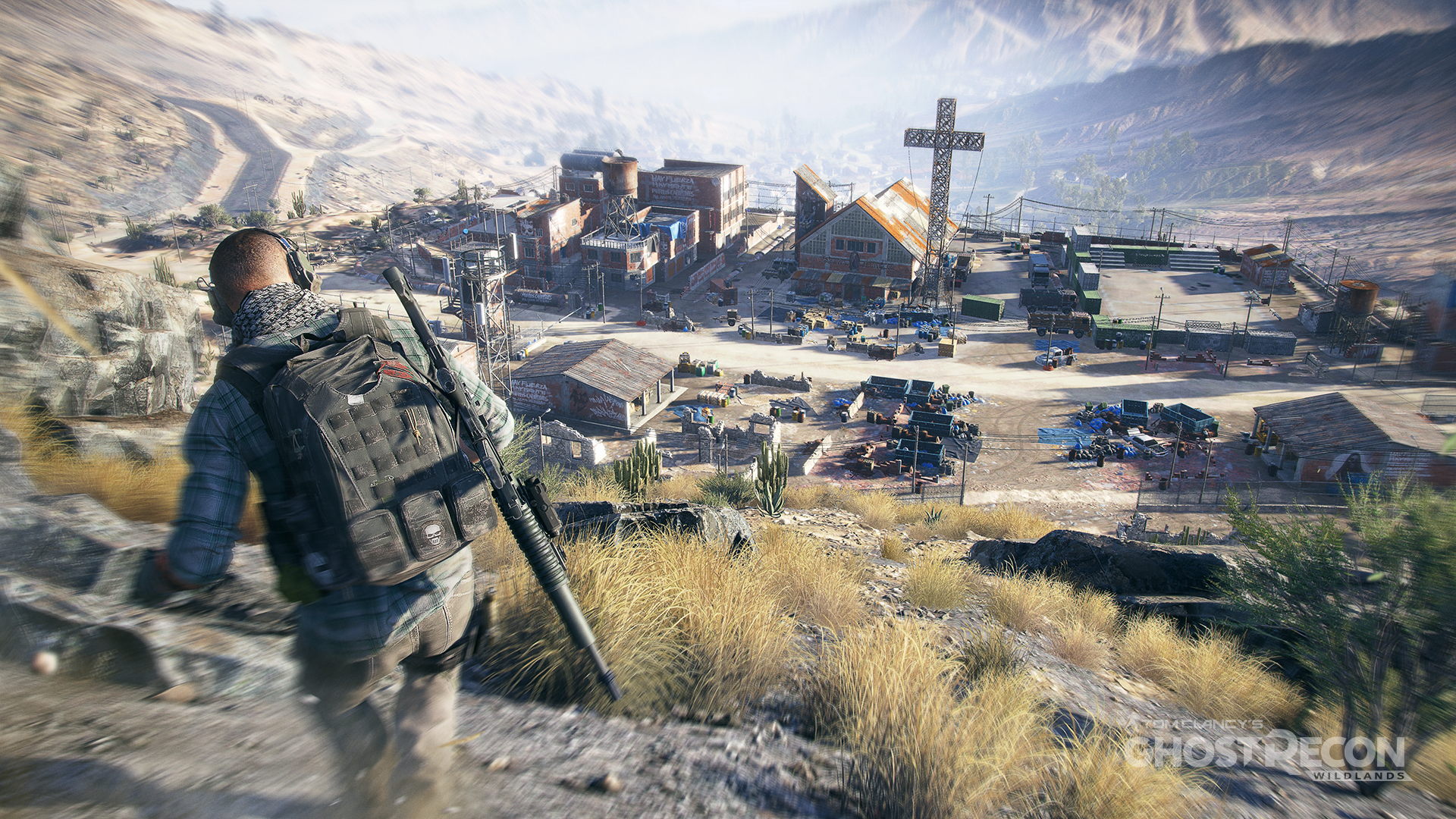 ---
SOUTH PARK: THE FRACTURED BUT WHOLE
This game is kinda different from South Park: Stick of Truth. Stick of Truth was a turn based RPG game but The Fractured but whole has a different combat mechanic.  It is not like turn based, it is a little hard to explain. The game has some new characters and new move types. It is still funny as the Stick of Truth.
---
EAGLE FLIGHT
New ideas for VR… Eagle Flight is one of the best examples for this. In Eagle Flight, you play as an eagle. Sounds fancy, right? The game is a multiplayer game and it has various game modes. It is a revolution for VR gaming.
---
STAR TREK BRIDGE CREW
Another VR title for E3. When you play this game, it makes you feel like that you are living in Star Trek. Using space ships is designed so well and you can play this game with your friends.  While one of your friends drives the ship, you can control the shooting system.
---
FOR HONOR
Have you ever wanted to play an awesome medieval game? Then For Honor is just your game. You will play as Vikings, Knight, and Samurai. If you look at the gameplay trailer you will see that the gameplay is so special and unique. I must say that For Honor is the best medieval game i have ever seen.  Brighttitan is going to make a review for it. You can be sure.
---
GROW UP
It is a 3D platformer game. There is nothing more to say.
---
WATCH DOGS 2
Let's be honest, not everybody (including me) liked Watch Dogs. It was repeating its missions a lot and it was not associated with the trailer that announced. Watch Dogs 2 may be so good or bad. If Ubisoft repeats its mistakes, Watch Dogs 2 will be a failure but if Ubisoft learned anything from its early mistakes, Watch Dogs 2 will be amazing.
---
STEEP
This is a game about extreme winter sports. You can ski, snowboard, parachute and so more. It looks like a nice game.
---
GOD OF WAR
Another title of God of War franchise. But this is a little bit different. The graphics and physics so astonishing like other God of War games but this game is not like a hack and slash game. When you look at the trailer you will understand what i am talking about.
---
DAYS GONE
A new game. This game looks like Last of Us and gameplay is kinda like Last of Us as well. Graphics are so good but i think the story will be better.
---
THE LAST GUARDIAN
Another big title that was expected from Sony. This game is not filled with action but it is filled with emotions . The graphics could be better but most of the gamers think that this game will be awesome.
---
HORIZON ZERO DAWN
Let me hear the fangirl scream. Every gamer is excited for this game and they have rights. This is a new series for Sony it has a unique theme. You can blow up robotic dinosaurs with your arrow and spear. But the most important part of this game is the graphics and physics. Sony has never made a game like this before and we think that it is going to be awesome.
---
DETROIT: BECOME HUMAN
This a new game for Sony as well. We can't say much about the gameplay but the graphics look awesome. You should check it out.
---
RESIDENT EVIL 7
The classical scare game of Capcom became scarier. The graphics have improved and Resident evil looks better than before. If you are a fan of scare games, you definitely should check this game out.
---
Farpoint
It is an FPS game, revealed in E3 2016, that is specially made for PlayStation VR as it is only available on PlayStation 4. It is developed by Impulse Gear and published by Sony.
Farpoint takes place in a planet although the name of the planet is given. As far as we know, the main character works for a project called "United Earth". However, again, we don't know much about this project.
One thing that is worth mentioning is that the game requires PlayStation VR Aim Controller which is sold separately and requires Move controllers to work.
---
Star Wars Battlefront X-Wing VR Mission
In the E3, Sony announced a VR mode for the current Star Wars Battlefront. However, it is not exclusive for PlayStation as it will be available on PS4, Xbox One and PC.
---
Batman Arkham VR
Batman Arkham VR is an exclusive  for PlayStation 4 and it takes place in the Dark Knight universe. The game will be released in 16 October 2016.
---
Final Fantasy XV VR Experience
Here is yet another VR version of a popular game. Final Fantasy XV is a fantasy RPG game that will be released on 30 September 2016. The VR experience of the game is revealed in E3 but still there is not much to say about it.
---
Crash Bandicoot Remasters
Here is a classic game. Crash Bandicoot is coming to the PlayStation 4 and no. It is not a VR game ( at least not yet ). Also, Sony did not say a specific date for Crash Bandicoot Remasters.
---
LEGO Star Wars: The Force Awakens
LEGO Star Wars: The Force Awakens is an upcoming LEGO game that will be out in 28 June 2016. The game will include characters from the film itself. However, the interesting part is that the game will be available on PC, PS4, PS3, PS Vita, Xbox One, Xbox 360 and Wii U.